REPEAT PERFORMANCE MULTIMEDIA
London's Leading Centre Since 1986 For
CD, CD-ROM and DVD Replication
CDR, DVDR and Cassette Duplication
Digital Mastering and Editing
Graphics and Printing
MEDIOCRITY IS THE NORM, BUT WE'RE DIFFERENT
Repeat Performance specializes in CD and DVD replication, and fast-turnaround short-run duplication. We started as an audio company but CD-ROMs and DVDs now account for about 50% of our work. We keep as many of the processes as we can in-house, to reduce lead times and retain quality. Happy customers -- repeat customers -- that's what we want you to be. You can pay a lot more than we charge, and you can pay a bit less, but at RPM you get top quality, attention to detail, at a price that is well below average. And that combination means excellent value for money.
Click on the links at the left of the screen to navigate through the site.
Keep abreast of new developments: email us with "Add me to the mailing list" in the subject field.

Below is the generic RPM advert that you'll see in many multimedia magazines.
Do let us know if you find a mag where we ought to advertise, and we'll check it out.
Here are some photos to give you an idea of what RPM is like.
Here's our reception, looking into the copy room and graphics room. The people have posed for the shot: see if you can work out which one of them actually works here! We only have four or five staff, which makes us small enough to care, and large enough to cope: it's a desperately cheesy expression, but it's true.

This next pic is part of the machine room: there's a similar rack of 50 recorders on the other side, out of shot. This room looks like Tokyo by night, and is pretty impressive. Heat rises, and motors run fast when they get warm: you can just see one of the fans we installed at the bottom of each rack to keep the top machines at the same speed as the bottom ones. How do you photograph bank upon bank of black boxes with black buttons and not make it look like a coal house? Well, you use arty filters over the lights, and get the camera right down in the corner of the doorway of course.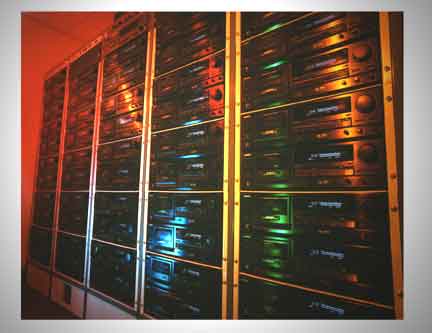 The photo below is of the mastering room, where we prepare masters for duplication if you don't supply them to us quite finished. See that half-inch reel-to-reel on the right? It used to be one of our two main workhorses, but now it gets used only about once every couple of years (the other is in a cupboard downstairs along with our PCM-F1). DAT tapes were all the rage for quite a while, but now it's pretty much all CDRs or wave files. Mastering and editing is how we started in March 1986 -- not here, mind you, but in Robin and Michele's living room. After Rosemary was born, we were surprised to find that she didn't want to be rocked to sleep: Robin had to gently kick her cot in time with the music!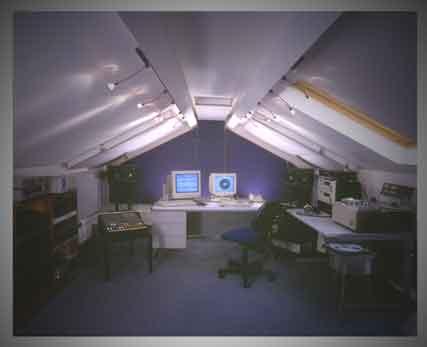 .

Site updated 18 March 2013

This page is from the website of RPM, Repeat Performance Multimedia
50 Fordhook Avenue, Ealing Common, London W5 3LP
Visitors welcome by appointment
Tel 020 3286 4018 . | . Skype RepeatPerformance

Contact RPM: click here to send an email
Homepage: http://www.repeat-performance.co.uk
All our prices are quoted in pounds sterling. E.&O.E. ©1990-2013 Repeat Performance Ltd.
Prices contained in these pages supercede any previously published, and are subject to our standard terms and conditions, and to VAT